Barb Sanborn – LPGA Instructor, Teaching Pro & 

Adviser
Barb is no new face to golf, with an impressive golf resume and focus in particular with juniors. She is an active part of the First Tee Drive in Baltimore and so happens to live right here in southern York County. In her previous life Barb was a physical education teacher in Baltimore County, was a Titlist rep and is a LPGA instructor.
Barb is our biggest cheerleader, thrilled to see our efforts in growing the game in her own backyard and eager to help when and where needed. Barb is a great fit in particular for women and girl golfers that need more of a female perspective when learning. After all, there is a reason for the book, "Men are from Mars, Girls are from Venus!"
.
.
 .
 .
Kim Carl – Junior Instructor/First Tee Coach
Kim Carl continues to be a tomboy at heart, having played just about every sport and outdoor activity a girl could imagine. However, golf wasn't one of them, despite her mother's passion for the game and introduction. After some maturing, Kim became interested in the game for business purposes with some fellow girlfriends. That was the start, but golf became more central in her life after marrying her husband Jeff, an avid golfer since age 10.  In 2004, Kim launched Genesis Golf Trips and has been growing her game little by little each year since.
Her experience with youth and heart for kids began in 2008, when Kim became an assistant basketball coach for her daughter's team. She thereafter she has coached each year since through 2016.  In 2008 Kim also joined the children's ministry team at Grace Fellowship Shrewsbury and transitioned to youth (teens) in 2009, knowing she found her calling. She continued with the youth ministry team through 2013, but continues to this day to maintain contact with those with whom she developed a mentoring relationship. Just this year she joined the Fellowship of Christian Athletes York County Board in an effort to grow discipleship in middle and high schools throughout the county. The Genesis Golf4Kids© program concept is in honor of her Mother's memory and rejoicing in her passion for a game that all ages can play.
.
.
.
Blake Testerman – Winter Junior Golf Instructor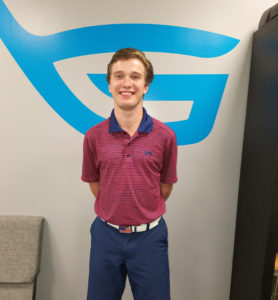 Blake was introduced to the game of golf at the age of 9 and it has been a fixture in his life ever since.  Golf was one of the many sports he played when he was kid growing up, but was it was not his primary sport at first. Once he got older and realized that he wasn't big enough to play football, basketball or baseball at a high level, Blake focused on golf as his outlet.  He attended Kennard-Dale High School and played on the golf team all 4 years.
After high school, Blake chose to continue golf by attending Keiser University in West Palm Beach, Florida and majoring in Professional Golf Management.  Upon graduation, he took upon various roles in the golf industry working at Hayfields, Golfsmith, and previously Royal Manchester Golf Links. His specific experience includes: retail, club fitting, instruction and of course the standard daily Golf Professional duties.  He recently joined Genesis Golf to grow others' passion for the game through teaching and instruction, but also being an integral member of the team in growing Golf Trips and Tournament Management services. Having grown up in Southern York, Blake is bringing his regional experience back to his home town community.